Voices For Change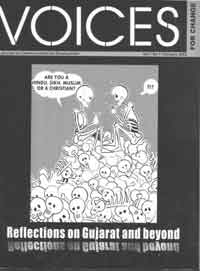 Gujarat, Governance and the Media is not just about Gujarat. It is about all of us in the context of a professedly multi – cultural society which should conform to the constiutional legitimacy of social, democratic and secular republic. Citizenry has to get its act together and actively engage in the governance process if these precepts are to be substantiated by practice and not insidiously violated. The events in Gujarat also clearly leave no room for sitting on the fence. As Martin Luther King pointed out long ago, " A time comes when silence is a betrayal."
Public memory is notoriously short. This, coupled with the lack of citizenry engagement has contributed to lessons of the past being consigned to the backburner, and history repeating itself. Timely information, communication, documentation and dissemination can play a vital role in preventing mistakes of the past from casting a long shadow. Media's role, both in terms of raising questions as well as tracking events pertinent to governance, then, assumes additional significance. It is against this backdrop that the raison d'etre for the current issue of the journal has taken shape.
Development Education
VOICES, in collaboration with ActionAid, Bangalore, has, in February 2003, operationalised a media education programme which will train college & school students in Bangalore on issues related to communal harmony
The programme uses the crisis in Gujarat as a peg ; however, it will also take from other related issues which are covered in the media to discuss secularism and peace .