INFOKIT- Knowing for Ourselves: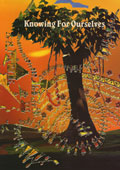 Priced at Rs.20, this collection of modules is designed as a tool for health workers to educate both men & women at the grassroot level, on reproductive health & contraceptive options. This attractively presented kit is written in simple language and contains informative diagrams, which make 'Knowing for Ourselves' possible.
Available in English, Kannada, Telugu, Tamil & Malayalam languages.