Making Waves with Community Radio
What is Community Radio?
A small radio station managed (with respect to joint ownership and it being participatory) by and set up with the interests of particular local communities in mind, is referred to as community radio…with communities being defined as people living in a geographically defined area so that access to the radio station is easy.


The Namma Dhwani Initiative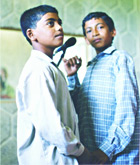 Namma Dhwani in Kannada (the state language of Karnataka, India) means 'Our Voices'. Based out of Budikote, a village about 100 kms from Bangalore it is a partnership between the community of Budikote, VOICES, and MYRADA with support from UNESCO. This partnership is unique because of the skill sets that each of the organisations bring in. VOICES is an NGO that looks at using media for social change and has been actively lobbying for Community radio in India. MYRADA has been working in the Kamasamudram area for over 10 years towards integrated rural development. UNESCO has a history of supporting projects of ICT's and development. Namma Dhwani is perhaps one of the country's first cable audio initiatives
March 28th, 2003 was a red letter day for the community of Boodikote village in Kolar . On that day , Namma Dhwani operationalised the first phase of its cable audio initiative and cablecast its first programme . The process was collaborative and in conjunction with the local cable operator which enabled 200 of the 650 households in the village to listen to the programme on their TV sets.
By August, the remaining 450 households will also be cabled. Since these households do not own television sets, they will receive the cable channel on modified radio sets, which are being sold to them at subsidized rates.Click here to know more….
The Namma Dhwani cable audio station, managed by members of the local community. is perhaps one of stations of its' kind in the world. Reaching out to the entire village community, the project aims at including the excluded. Programmes are made in Kannada,Telugu & Hindi. Click here for programming schedule
Parallel to the cable audio project, is the school audio project. Twice a week, educational programmes, often made by the students themselves are cablecast to he senior classes at Boodikote's only school. The subjects covered include current affairs, local news, music, drama, general knowledge etc., in addition to material pertinent to the school curriculum.
Complementing the school audio programme is computer training at the audio production centre. Basic skills in MS-Office are provided by community workers to high school dropouts.
Earlier in the year, VOICES, with support from Plan International (India Chapter) produced a bilingual (English + Kannada) Namma Dhwani booklet documenting audio activities underaken by the children of Boodikote village.
Side by side, programmes covering a wide range of issues- health, womens' issues, income generation activities etc. have been narrowcast at self-help group meetings in 22 villages around Boodikote secor. Till date, 350 programmes have been made.
The Namma Dhwani management committee comprises representatives from 10 self-help groups as well as representatives from the facilitating NGOs- MYRADA and VOICES. Get in touch with us
The PROOF Puttanna initiative
Aired every Wednesday from 8-8:15 p.m. on Akashvani 101.3 FM, PROOF Puttanna is a community radio programme aimed at creating awareness & disseminating information about PROOF (Public Record Of Operations & Finance) – an urban governance campaign launched in Bangalore, Karnataka on 4th July, 2002. The objective of PROOF is to put in systems whereby the city Municipal Corporation (Bangalore Mahanagara Palike or BMP as it is known) makes public its quarterly performance data and citizens participate constructively in the process.
PROOF is a partnership between 4 NGOs-Centre for Budget and Policy Studies (CBPS) with expertise in Performance Analysis; Public Affairs Centre (PAC) which works for Transparency through Report Cards; Janaagraha, for Citizens Mobilisation and Participation; and VOICES for Community Awareness and Communication.
VOICES publication : "Narrowcasting"
Narrowcasting affords a viable option for development communications, as it is a simple, efficient and participative tool by which to 'spread the message' of, by and for communities. Priced at Rs 80, copies of "Narrowcasting: A tool for development communications" are available with VOICES.
(June 2002)
Kathmandu Consultation
VOICES supported a South Asian consultation organised by the Institute of Development Studies, UK and PANOS on Community Radio at Nepal. Community radio advocates from across South Asia came together to discuss common concerns.
(February 2002)
UNESCO Community Radio Handbook
VOICES brought out a Kannada version of UNESCO's Community Radio Handbook. 'Samudaya Radio Kaipidi' includes experiences of NGOs, local stations and communities, as well as information on equipment requirments.
(July- December 2001)
VOICES prepares India CSP on Community Radio
AMARC commissioned VOICES to write the first India Country Strategy Paper for Community Radio. The paper was presented during the South Asian Community Radio consultations held at Kathmandu in February 2002. (December , 2001)